---
HVAC Service
Our staff know the meaning of the words customer service and we make sure you are completely satisfied with our services–whether it's installing a new unit, repairing an existing unit or anything in between, your satisfaction with our work is important to all of our technicians.
Replace Freon
Fix thermostat
Clean coils on air conditioning unit or clean the furnace
Replace the entire air conditioning unit
Furnace replacement
Heat Pumps and other heating systems
…and more
As a locally owned and family operated business, we know the value of an excellent work ethic and outstanding service. That is our philosophy for every service call we make. When your technician arrives, you can always look forward to courteous service, upfront pricing, and excellent workmanship.
Attic Insulation
Insulating your attic is the most effective way to improve the efficiency of your home. Heating in the Winter time and cooling during the Summer time becomes easier for your heating/cooling system. I noticed on average a 30% to 40% reduction in the energy that my home used after installing attic insulation.
How Does Attic Insulation Work?
Heat flows naturally from warmer areas to cooler ones. It does this by one of three different methods: conduction, where heat is delivered directly from one mass to another; convection, the transfer of hot air from one space to another (hot air rises, cool air sinks); and radiation, which simply means that any warm mass passes off heat toward a cooler one.
The main function of insulation is to minimize the radiation and convection effect of heat and minimize conduction. This causes our home to stay warmer in cool weather and cooler in warm weather.
What is the Best Attic Insulation Type?
There are many different types of attic insulation, but the best type depends on your climate and needs. Two things that you will be looking for is the material used such as cellulose and the r value or "resistance to heat flow." The more extreme the range of temperatures in your area the higher insulation r value you need. You can check your local energy commission, local power company, or local home center for the best R-value in your area or consult this map and chart courtesy of the EERE of the Department of Energy. Insulation R Value Map Insulation R Value Chart
Blown in Attic Insulation
Blown in insulation, as opposed to batt insulation which uses fiberglass blankets, creates a seamless blanket of insulation in your attic. You could spend hours kneeling to achieve the same result with fiberglass batts in your attic. Once installed and expanded to the uniform thickness, batts offer a known, consistent R-value. However, blown-in insulation thickness can vary in an attic space which leads to non-uniform R-values. Cellulose is a common and advantageous type of blown in insulation. One of the main advantages is its fire retardant characteristics.
If you decide to use blown-in insulation, place scrap lumber depth gauges throughout the attic. These pieces of wood can be marked to the desired thickness of insulation. Tack them to the ceiling joists in various locations and use them as guides for desired depth.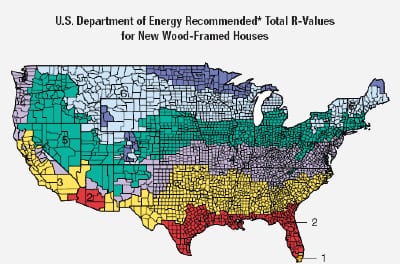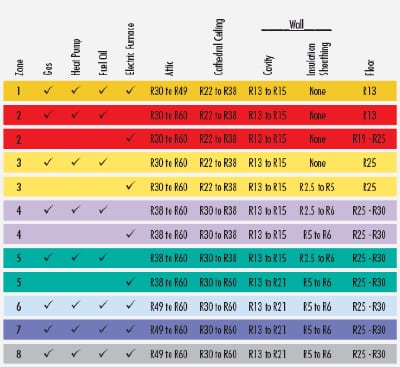 ---
Weatherization
Warmed or air-conditioned air mixes with outside air through gaps in your home's thermal envelope-exterior walls, win­dows, doors,the roof, and floors. Such air leaks can waste large amounts of energy.
Most experts agree that caulking and weather stripping any gaps will pay for itself within one year in energy savings. Caulking and weather stripping will also alleviate drafts and help your home feel warmer when it's cold outside. However, these two weatherization techniques can't replace the need for proper insulation throughout your home.
Because caulk and weatherstripping limit indoor‑outdoor air circulation, you should assess your indoor air quality before you apply them. Some homes contain dust, mold, carbon dioxide, and other indoor air contaminants. Sealing air leaks in these homes, without proper ventilation, can also seal in their indoor air pollutants. There­fore, any plan to tighten the thermal enve­lope of a home should be accompanied by a look at your home's ventilation needs.
You may already know where some air leakage occurs in your home, such as an under-the-door draft that makes you want to put on socks. But you'll probably need to search to find the less obvious gaps. Also inspect around the fol­lowing for any cracks and gaps that could cause air leaks.
Look between foundation and walls
Between the chimney and siding
Door and window frames
Mail shutes
Electrical and gas service entrances
Cable TV and phone lines
Outdoor water faucets
Where dryer vents pass through walls Bricks, siding, stucco, and foundation
Air conditioners Vents and fans
Contact Us today for your FREE ESTIMATE.
---
City of Austin Rebates